OXYGEN MASKS, NASAL CANNULAS, OXYGEN HEADSETS, NON-REBREATHER MASKS
x
Please call for discounted prices by the case for any of our oxygen masks, headsets or cannulas.
V
Questions about any of our oxygen accessories? Call us at770-534-0920.

1 Standard Nasal Cannula
$4.00 + 6.00 shipping
6 Standard Nasal Cannulas
$18.00 + 8.00 shipping ($3.00 each)
12 Standard Nasal Cannulas
$30.00 + 10.00 shipping ($2.50 each)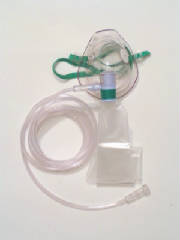 NONREBREATHER MASK

Non-Rebreather Mask

Non-rebreather mask ventilator bag with 7 ft. oxygen tubing.
Safety vent check valve, disposable
To be used at altitudes above 25,000 ft.
Sterile in package.
Unit weight: 3.2 oz.



1 Non-Rebreather Mask
$14.00 + $6.00 shipping

3 Non-Rebreather Masks
$39.00 + $9.00 shipping

6 Non-Rebreather Masks
$72.00 + $12.00 shipping
12 Non-Rebreather Masks
$144.00 + $15.00 shipping