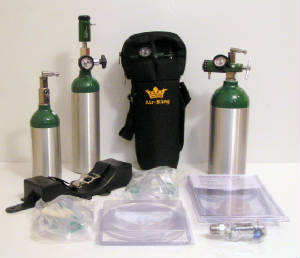 Delta Oxygen Systems use individual dial flowmeters to deliver oxygen flow with an exact and convenient flow dial.
Just choose the flow you require based on altitude and individual need, set the dial to the appropriate flow.
Other systems use needle valves and in-line flow meters that are not as user-friendly or exact.
Our systems come with Pendant Style Oxymizers - the more popular and comfortable choice.
AIR-KING - BETTER DESIGN, BETTER FEATURES!
COMPARE SYSTEMS

AIR-KING

AEROX

Approx. Duration @ 10K'

45 hours (24 cu.ft cylinder)

41.5 hours (22 cu.ft) cylinder

Oxygen Regulator

Adjustable dial control flow regulator

Pressure regulator

Valve Selection

CGA-540 and CGA-870

CGA-540

Oxygen Flow

Dedicated port for pilot, individual needle valve for passengers delivered in liters

Individual lines set to altitude scales, not provided in liters per minute

Oxygen Flow Control

Regulated in liters for individual O2 needs,dedicated pilot's port

Altitude scales - do not account for different oxygen requirements

Oxygen Conserving Device

Oxymizer by Chad

Pendant or Mustache

Oxy-Saver

Pendant or Mustache

Oxygen Connections

Universal/barbed outlet

Specialized connections Refurbishment kits

Oxygen System Warranty

Extended lifetime

Limited lifetime

Pilot Accessibility

Pilot can conveniently monitor & control oxygen delivery

Inconvenient oxygen flow control distribution

Needle Valves

High pressure rated to 3000 psi for durability and accuracy, standard size control knob

Smaller knobs that are difficult to adjust and will not hold settings accurately.

Cylinder Seat Bag

Cylinder secured into seat bag with Velcro safety straps

Open at top, cylinder is not secure when system is in use
COMPARE PRICES AND SAVE!
*Air-King Portable Aviation Oxygen Systems with
Oxymizer
Aerox Systems with
Oxy-Saver
| | | |
| --- | --- | --- |
| Aviation Oxygen System Description: | Air-King* | Aerox* |
| 4 cu.ft. Portable Emergency Oxygen System | 225.00 | N/A |
| 1 Place 6 cu.ft Portable Aviation Oxygen System | 300.00 | 456.00 |
| 2 Place 9 cu.ft Portable Aviation Oxygen System | 425.00 | 609.00 |
| 4 Place 15 cu.ft. Portable Aviation Oxygen System | 625.00 | 774.00 |
| 6 Place 24 cu.ft. Portable Aviation Oxygen System | 875.00 | N/A |
| Cylinder Bag - Shoulder or Seat-back | 45.00 | 74.95 |
| Air-King Oxymizer/Aerox Oxy-Saver | 25.00 | 39.50 |