CGA-540 LOW PROFILE VALVES ARE ALSO AVAILABLE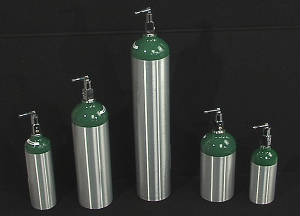 REFILLABLE ALUMINUM CYLINDERS WITH CGA-870 TOGGLE VALVES
---
Aluminum Aviation Oxygen Cylinders
CGA-540 and CGA-870 Valves
2 CF to 90 CF in Stock
Larger and Composite Cylinders available by special order
x
Our aluminum aviation oxygen cylinders are strong and lightweight, produced from high strength aluminum alloy 6061-16.
Finish is a brushed aluminum body with green shoulder and clear coat of heat sensitive powder paint (unfinished bottom.)
All seamless aluminum alloy compressed oxygen cylinders are manufactured in accordance with
U.S. Department of Transportation (DOT) 3AL and Transport Canada (TC) 3ALM requirements.
---
x
For prices or to buy click:
Valve has a pin-indexed system for simple regulator mounting.